Sandbears as a show kennel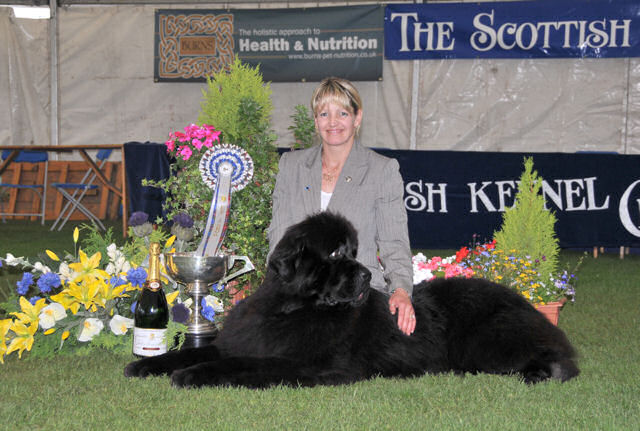 We are pleased and proud that in a comparatively short period of time Sandbears is now the home of eleven UK Champions (seven of them home-bred) and we have also bred two Irish Champions, a Russian Champion and one is also an American Champion.
(Chino) gave us one of our proudest moments in the breed when he went Best in Show (All Breeds) at the Scottish Kennel Club Championship Show on 24th August 2008. It was a wonderful achievement for Sandbears and the first time a Newfoundland had gone "all the way" at an all-breeds UK Championship show for many years.
(Truly) was the top winning Newfoundland Puppy in 2007 and in the Working Group Puppy overall. She became a Champion in January 2008 at the age of just 16 months and to date is the youngest ever Newfoundland to become a Champion.
(Shelby) was the top winning Newfoundland Puppy in 2006 and went on to become a Champion in 2009 winning a total of six Challenge Certificates and four Reserve CCs during the year and finishing as the top winning Newfoundland Bitch in 2009.
(Luna) won the Reserve CC at Crufts 2010 and went on to gain her UK Champion title. She finished the year with six Challenge Certificates, a Working Group 3 place and was the top winning Newfoundland Bitch in the UK for 2010.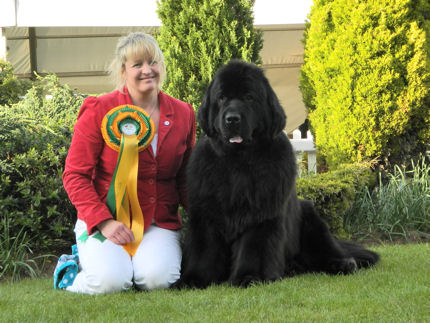 (Stride) gained his UK Champion title in three straight Championship shows in April/May 2012 with BoB and Group placings at the first two and then at Birmingham National he went all the way winning the Working Group and then Best In Show. Just over two months later Stride turned on the style again to win the Working Group and then take the top spot of Best In Show at the National Working & Pastoral Breeds Society.
To have had two all-breed Championship Best In Show winners with two different home-bred dogs is a dream come true and we are immensely proud of all of our wonderful boys and girls.
(Hattie) gained her title in June 2014 and added further CCs to her tally (which includes four Reserve CCs) including a Best In Show at the Northern Newfoundland Club's 2015 Championship Show and Best of Breed and Second in the Working Group at WELKS in April 2015.
(Tyler) is another of our home-bred UK Champion, gaining his title at the SKC May Show where he was Best of Breed and Second in the Working Group. Now in the USA, Tyler has also gained the title of American Champion.
(Winslow) gained his title at the 2018 SKC May Show. Jointly owned with Karen Moore and Brooke Beck in the USA and we are delighted to have him with us and for him to finish as the Top Winning Male Newfoundland in 2018. In 2019 he went one better and was the Top Winning Newfoundland in the UK.

(Floyd) gained his UK title in January 2020, at the tender age of just two years and four months. 2021 has been another hugely successful year for Floyd with eleven KC Challenge Certificates (all with Best Of Breed) since showing restarted in June after the Covid-19 lockdown. He finished the year as the UK's Top Winning Newfoundland.
(Soldier) is our latest youngster to gain his UK title in December 2022, at just two years and seven months. 2023 has been a thrilling year so far with Soldier adding more CCs to his awards tally, including the CC and Best of Breed at Crufts.
You can find an assortment of pictures of Sandbears Newfoundlands in the show ring on our Showing Gallery page.
Sandbears as a newfie family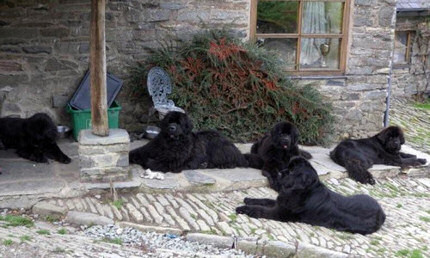 Of far greater importance to us than success in the show ring is the enjoyment of our dogs as part of our family. The joy of owning Newfoundlands lies in the pleasure of their company and their wonderful temperament for which they are justifably renowned.

Most live in our kennels but during the day they enjoy the freedom (and the mud when it is wet!) of our paddocks and gardens where they have loads of love and attention from us all.
Our Fun Gallery page has many more pictures of Sandbears doing just that ... having fun.
Our "With Friends" section
We are inviting everyone with Sandbears newfies who would like be included in the "With Friends" section to get in touch so that we can create pages for their Sandbears newfs. It doesn't matter if they are show dogs or pets, we are proud of them all and would love to include them. We ask for pictures (preferably high resolution, if possible) and a few words of description. The pictures don't have to be show poses, pictures of them working, having fun or just being themselves at home are all welcome. Our email address is on the Contact page.